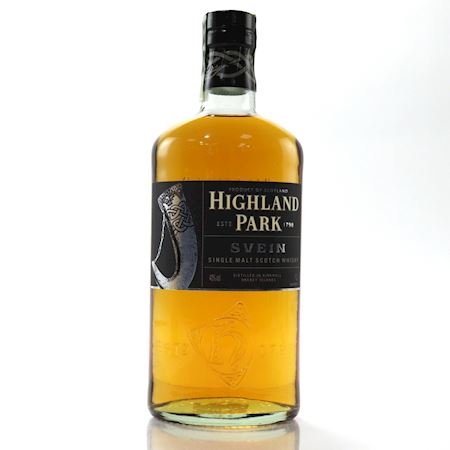 Region: Highland-Island-Orkney
Brand: Highland Park Svein
Nose: Very light. Not unpleasant but little expressive. Floral tones (Heather, Honey, Pine Needles), Red Fruit, Citrus Fruit (Orange, Lemon and Grapefruit), Young Oak, Straw, Nuts, Dried Fruits (Raisins and Apricot), light Pepper, Malt, light Mint and soft Peat/Smoke. The Alcohol is not yet fully integrated.
Palate: Again on the light side. I get Young and slightly Bitter Oak, Vanilla, Cinnamon, Sweet Barley, Pencil Shavings, Honey, Dried Fruits (Raisins, Sultanas, Apricots), Orange Peel, Mandarins, Lemon, Grapefruit and very distant Smoke.
Finish: Rather Short and mainly Dry with slightly Bitter Oak, Malt, Dried Fruits, light Pepper, Sour Grapefruit, Gooseberry and a touch of Honey.
I added a bit of Water and Red Fruit, Citrus and Wax become stronger on the Nose. Palate and Finish become too Watery though.
Nose: 20.5 - Taste: 20.5 - Finish: 20 - Overall: 20.5
General Remarks: Highland Park was founded in 1798 by Magnus Eunson and is the most northerly distillery in Scotland, It is located on the Orkney Isles, off the North-East coast of Scotland.
Highland Park is one the very few remaining distilleries that malts (at least part of) the Barley on its own malting floor.
The distillery uses local Orcadian Peat, that mostly consists of Heather and other Plants. Only a limited amount of the Malt is dried with Peat though. Highland Park is owned by the Edrington Group. In 2008 the very nice Visitor Centre was upgraded.
Together with Einar, Harald, Sigurd, Ragnvald and Thorfinn, the Highland Park Svein is part of the Warrior Series, released in 2013, initially via Travel Retail. All six are named after Viking warriors with the idea to match the whisky with the characteristics of the warrior in question. Svein is the ultimate Viking War Chief and his exploits lie at the heart of the History of the Earls of Orkney. Svein was generous and loved adventure. The Svein is not very expensive at around 55 US Dollars and matured in American Oak (90%) and European Oak (10%). One third of the casks used is first fill.
Drinking Experience Neat: Okay/Good
Conclusion: Svein was said to be generous and adventurous. This Single Malt is
certainly not adventurous. More mainstream ABBA than Warrior Svein! It's pretty standard young Highland Park actually. And as it's a young spirit it can hardly be too generous as well. It's similar to the 12 Years but not quite as good. It's not very expensive but there are better options in this price range. So I wonder if Svein will stay with us for a long time. Let's wait and see. In the meantime I'm looking forward to test Harald in 2014!