Brand: Teeling Single Malt
Crafted and Bottled by: The Teeling Whiskey Company, Dublin
Distilled at: Cooley
Type: Single Malt Irish Whiskey
Alcohol By Volume (ABV): 46%
Maturation: Sherry, Port, Madeira, White Burgundy, Cabernet Sauvignion casks
Chill Filtration: No
Price Range: US$ 40-50 (January 2020)
Price/Quality Ratio: Borderline Okay.
Buying Advice

: 😒It's okay I guess but the Alcohol really annoys!
Colour

: Golden Sunlight (Perhaps slightly Artificially Coloured)
Nose

:
Be careful not to put your Nose in the middle of the glass right away or you will get a waft of Alcohol right up your nostrils. Always look for the rim of the glass. This Teeling is a mix of Sweet and Sour Aromas and it feels quite Young despite the fact that it is said to contain some old Whiskey as well. But not too much if you ask me. It's Fruity, Grassy and well....Green. It's not bad though although the Alcohol is a nuisance.
Main Aromas

:
Sweet Malt, Cake with a dollop of Fresh Cream, Vanilla, Grass, Dough, Unripe Banana, Pineapple, Lemon, Green Fresh Herbs, Sour Berries, Dusty Oak, White Chocolate, Nectarine, Apple and Cinnamon.
Supportive Aroma Accents:
Honey-Melon, Caramel, Toffee, Coconut, Dried Fruit like Plums, Apricot, Raisins and Figs, Peach, Caffe Latte, White Wine, Hazelnuts and a hint of Varnish.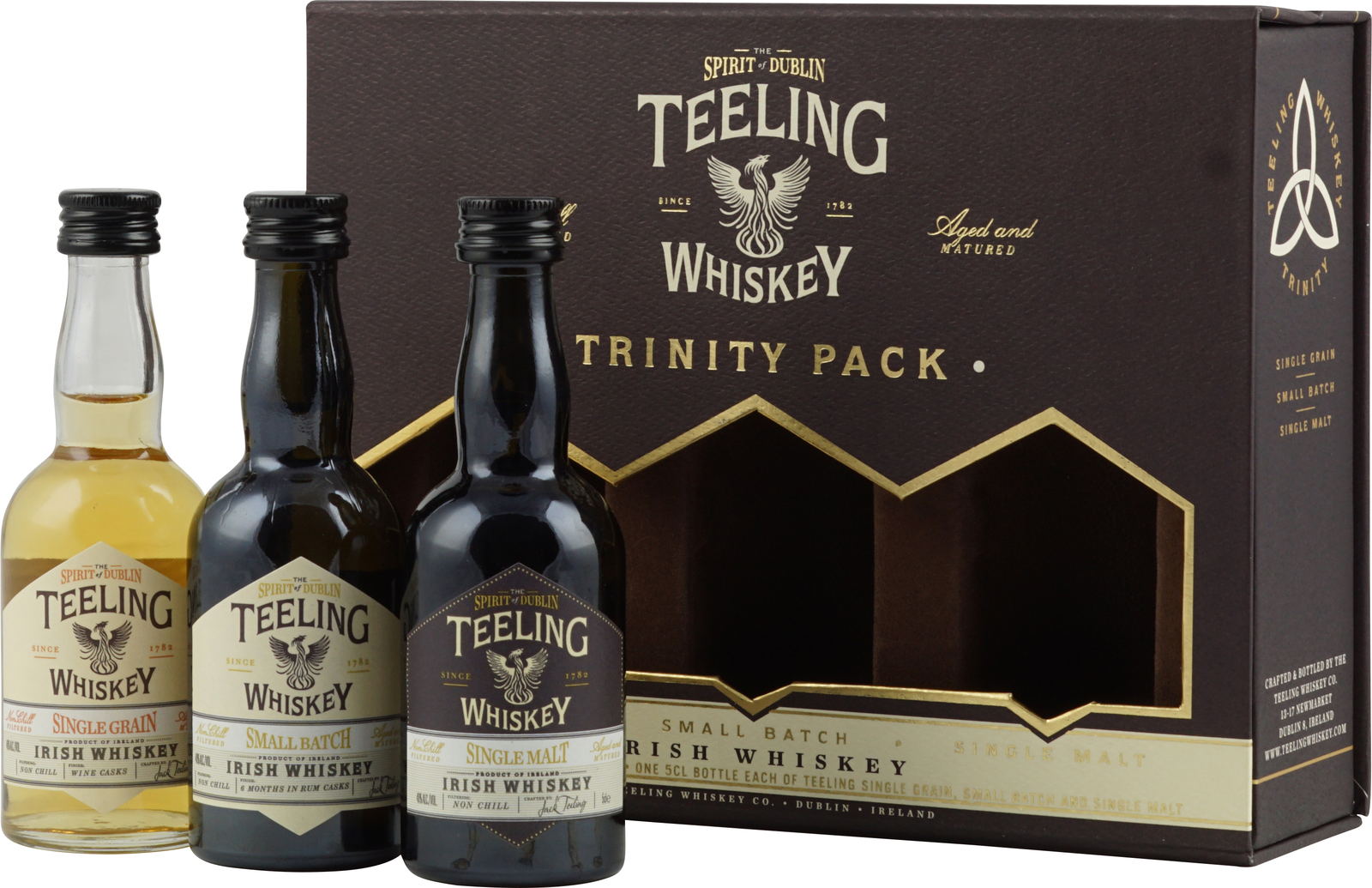 Palate

:
The first thing that hits you is the Alcohol. It's a pity as it negatively impacts the Nosing and Tasting pleasure. This Teeling Malt is not at all fully matured and it screams so in every department. On the Palate this Single Malt shows a mix of Sweet and Sour Flavours. The influence of the different Wine casks is actually a little limited so I will assume that most of the Spirit used for this vatted Malt matured in Refill casks and not for an awful long time.
Main Flavours:
Sweet Barley, Vanilla, Yeast, Dough, Wax, Grass, Straw, Cake with Cream and Strawberries, Unripe Banana, Apple, Pineapple, Nectarine, Fresh Green Herbs, Cinnamon, Pepper, Ginger and Charred Oak.
Supportive Flavour Accents:
Honey-Melon, Caramel, Coconut, Dried Fruit (Plums, Apricot, Raisins), Nutmeg, Cloves, Citrus Fruit, Caffe Latte and White Chocolate.
Finish:
Sweet, Short, Sour and Hot. The Alcohol spoils the fun again. A slight Bitterness towards the Dry end. This is a Young Malt on average. I find Malted Cereals, Buttered Toast, Yeast, Dough, Vanilla, Grass, Straw, Honey, Caramel, Cake with Cream & Strawberries, Green Vegetables, Nectarine, Cherry-Menthol Flavoured Cough Pastilles, Nectarine, Lemon, Orange, Herbal Tea, Pepper, Nutmeg, Clove, Cinnamon, Ginger and Charred Oak. Something Mineral or Metallic as well.
Drinking Advice

:
I added a bit of Water but it hardly slows down the Alcohol. It only helps a bit but I advise you to add a few drops even if it does not really change the overall Aroma and Flavour profile. It gains a bit more Citrus perhaps.
Rating

: 82
Nose: 21 - Taste: 20.5 - Finish: 20 - Overall: 20.5
Drinking Experience Neat

: Okay/Good
Conclusion

:
In 1989, John Teeling started the Cooley Distillery together with his sons Jack and Stephen. John sold the distillery in 2011 to Beam-Suntory. Part of the agreement was that Teeling retained 16.000 casks of ageing Cooley Whiskey. In 2012, Jack and Stephen founded Teeling Whiskey Company, bottling the Cooley casks under the Teeling label. Subsequently they founded a new distillery in the year 2015 in Dublin but also continue to bottle the sourced Cooley casks that have aged sufficiently.
The Single Malt is part of the Teeling Trinity range that also includes the Small Batch and the Single Grain. It contains both young and older Whiskey with the oldest being distilled in 1991. The Maturation in 5 different types of wine casks in unique for Irish Whiskey. It sounds quite interesting but it fails to deliver in my opinion. There are two main reasons for that. The first is the relative young average age of the spirits in this vatted Malt and the second one is the Alcohol. The ABV is not absurdly high but somehow the young Spirit can't cope with it. I am almost certain this Teeling could be a great Whiskey if sufficiently matured and reinforced by using more First-Fill casks. As it is you probably best enjoy it over Ice or in a cocktail on a warm summer day.
Cheers!
Jan van den Ende January 17, 2020