Type: Single Malt Whisky
Age: 12 Years Cask Strength (Bottled in 2016)
Alcohol By Volume (ABV): 57.7%
Maturation: Bourbon casks
Chill Filtration: No
Price Range: US$ 130-150 (August 2017)
Buying Advice: 😐Good Malt but very
expensive. Go for the 16 instead!
Colour

: Pale Straw/Chardonnay (Natural Colour)
Nose

: Unmistakably Islay with Wet Clay, Smoked Fish, Shellfish and Bacon on the BBQ, Brine, Soot, Iodine, Fresh Asphalt, Campfire Ashes, Horse Saddles, Sweet Malt, Toast with Honey, Vanilla, Toffee, Lemon-Pepper, Cinnamon, Ginger, Grapefruit, Green Apple, Dusty Bookshelves, Dried Herbs, light Menthol, Banana Nut Bars and hints of Pineapple, Plastic Pipes and Rubber. The Alcohol is not fully integrated. Still, this is what Islay is all about and I like it!
On My Way to Islay - May 2017
Palate

: Bitter Sweet with some Sour, Mineral, Herbal and Citrus notes as well. A little Thin despite the high ABV. I find Sweet Barley, Toast, Caramel, Heather-Honey, Toffee, Salted Bacon, Wet Clay, Tar, Soot, Ashes, Toasted Oak, Orange - and Lemon Peel, Grapefruit Juice, Herbal Tea, Licorice, Menthol, Pepper, Ginger, Cinnamon, Green Apples, Dusty Road and hints of Dark Chocolate and Espresso.
Finish

: Middle-Long. Bitter-Sweet with a few Herbal, Medicinal - and Sour notes as well. I find Sweet Barley, Toffee, Caramel, Vanilla, Toasted Oak, Orange - and Lemon Peel, Wet Vegetation, Ashes, Soot, Tar, Iodine, Heather-Honey, Herbal Tea, Green Apple, light Menthol, light Licorice, Ginger, Pepper and hints of Bitter Chocolate and Espresso.
Drinking Advice

:
I added a few drops of Water and the Nose becomes quite Malty and Nutty. The Alcohol is of course less noticeable. More Toffee and less Smoke on the Palate. The Finish gets a little Thin. You can certainly experiment with a few drops of Water.
Nose: 22 - Taste: 22 - Finish: 21.5 - Overall: 21.5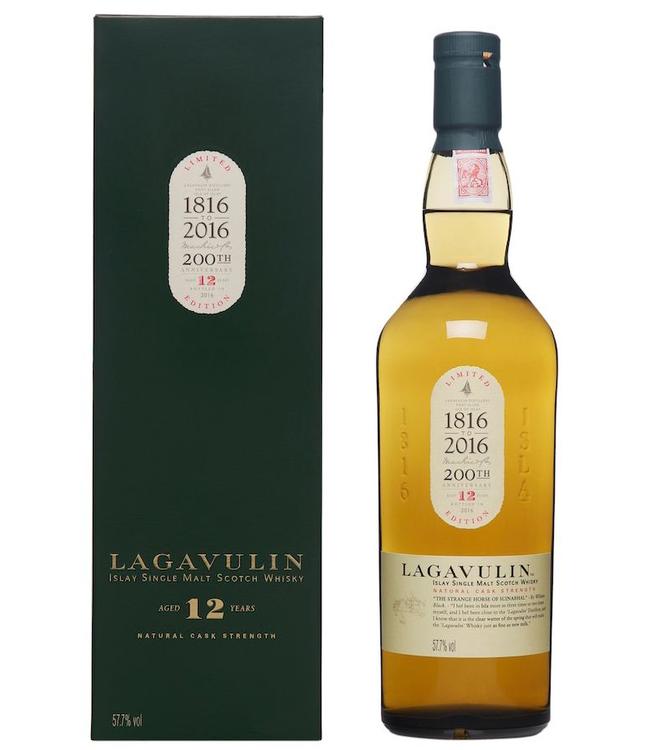 🏣
The Distillery and Today's Whisky:
The distillery was founded in 1816 by John Johnston and is located on the South-Eastern coast on Islay, close to Port Ellen. It changed hands various times during its history but today it is firmly controlled by Diageo. Lagavulin currently produces around 2.5 million liters. The 12 Years CS is part of the core range next to the famous 16 Years and the Distiller's Edition. Lagavulin Malt is one of the key Malts in the White Horse Blend.
The 12 Years Cask Strength was launched for the first time in 2002 and since has been released on an annual basis.
Washbacks - Visit May 2014
Lagavulin operates two pairs of stills. Relatively short Copper contact and a slow distillation produce a full-bodied classical Islay Spirit. The water is sourced from Solum Lochs.
🌲

The Wood

:
The 12 Years Cask Strength matures in Refill American Oak Hogsheads.
Drinking Experience:
Good
Conclusion:
The Lagavulin 12 Years CS is a good Single Malt without any doubt. Personally I think it could live with a slightly lower ABV of say 46 to 48% as the Alcohol is a bit too present at times. That could also lower the price a little as 130 to 150 US Dollars is a lot of money for a 12 Year old Single Malt. Purely from a Price versus Quality perspective the 16 Years does a much better job although the latter could do with a slightly higher ABV as it is now bottled at 43%. Flavour - and Aroma wise, both are good representatives of Islay Whisky. The 12 Years CS is relatively Young, slightly Edgy and a little Wild whereas the 16 Years is more mature, more balanced but also slightly less adventurous. I would like to have both in my whisky cabinet but if I'm forced to choose I'll go for the 16 Years that is more mature and has the better Price/Quality ratio.