Type: Single Malt Whisky
Age: 20 Years (Blue Label - Bottled in 2011)
Alcohol By Volume (ABV): 43%
Maturation: Probably Bourbons casks with a few Sherry casks in the mix.
Chill Filtration: No
Price Range: On average US$ 100 (January 2018).
Buying Advice
: 😐 Neutral. Good Price/Quality ratio. Very easy-going!
Colour

: Golden Amber (Natural Colour)
Nose

: Quite Light actually with a thin veil of Peat/Smoke in the background. If I am not mistaken there is some Sherry influence here as well. I even get a tiny bit of Sulphur but nothing to worry about. The Nose is mainly Sweet, Malty and Fruity. I find Sweet Barley, Buttered Toast, Toffee, Vanilla, Dried Fruit like Raisins and Plums, Nuts, Grass, Straw, Bounty Bars, White Wine, Citrus, Charred Oak, Pineapple, Nectarine, Peach Jam, Dusty Road, Wet Sand, Chocolate, Cinnamon, light Pepper and hints of Leather and Tobacco. The Alcohol is reasonably well-integrated. The Nose is pleasant and balanced but misses a bit of a kick.
Palate

: The Delivery is quite Thin. An ABV of 46% would have been adequate. On the Palate, this 20 Years is mainly Bitter-Sweet but a few Sour notes are to be noted as well. I find Creamy Malt, Toffee, Caramel, Vanilla, Dried Fruit, Nuts, Pineapple, Orange, Apple, Honey, White Chocolate, Grass, Pepper, Cinnamon, Nutmeg, Menthol, Dried Herbs and hints of Tobacco, Leather and Peat/Smoke.
The "Old" Bourbon 20 Years
Finish

: Middle-Long, Bitter Sweet and slightly Herbal. Clear notes of Vanilla, Toffee and Milk Chocolate. I also find Sweet Barley, Caramel, Bounty Bars, Nuts, Dried Fruit like Raisins and Sultanas, Orange, Grapefruit, Apple, Honey-Melon, Lemon, Spices like Pepper, Ginger and Nutmeg, Charred Oak, Menthol and very faint Peat and Ashes. A bit of Cured Ham after a while.
Drinking Advice

:
The 20 Years does not benefit from added Water. It becomes more like a Barley Juice. Better sip it neat.
Nose: 21.5 - Taste: 21 - Finish: 21 - Overall: 21.5
🏣
The Distillery and Today's Whisky:
The BenRiach distillery was founded in 1897 by John Duff & Co and is located in Longmorn, Elgin (Morayshire). It changed hands a couple of times in its history but in April 2016 it was bought by Brown Forman. BenRiach produced more or less 2,3 million litres in 2017. The core range includes a/o the NAS Heart of Speyside, the 10, 16, 20, 25 and 35 years. The peated varieties include the Birnie Moss, the Curiositas 10, the Septendecim 17 and the Authenticus 25. I have not yet been able to visit this Distillery. We passed by in 2014 but it was closed for maintenance at the time. BenRiach Spirit is also used in Blends like Chivas Regal, 100 Pipers and Queen Anne.
Quite some different batches of the 20 Years have been released since its launch in 2004. The miniature I'm tasting today was bottled in 2011 and has a Blue and White Label (See picture on top). This specific batch is said to contain around 10% peated Whisky as well as a considerable amount of Spirit that matured longer than 20 Years. Other batches have different levels of peat and maturation time. Most of the early batches mainly matured in Bourbon casks but in 2016 a Sherried 20 Years was released. See picture above (Dark Label). As far as I know the latter has been discontinued in the meantime. BenRiach is one of those many distilleries that do not shy away from introducing loads of different expressions and special casks.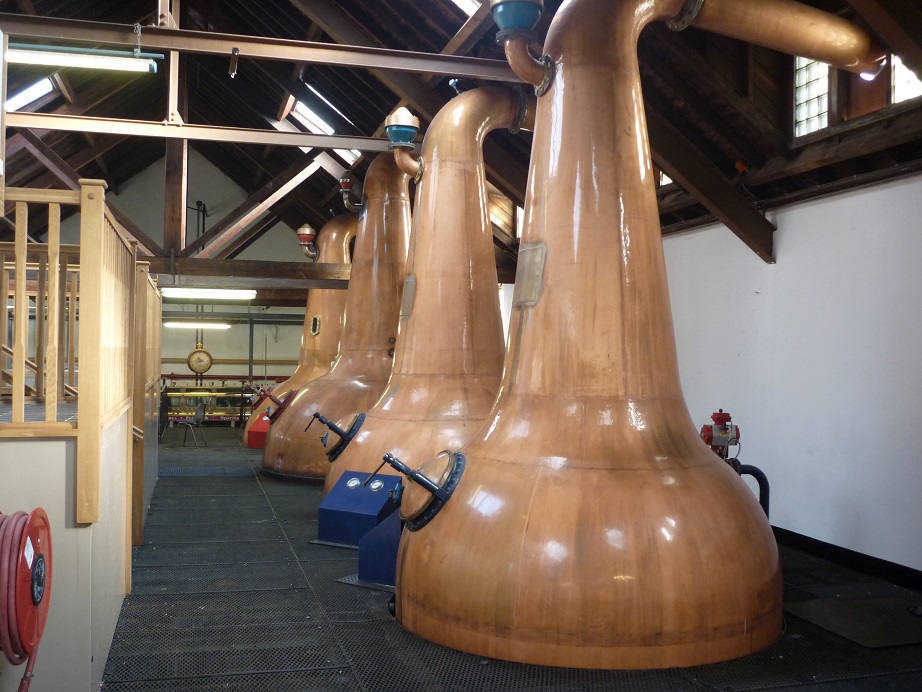 The distillery operates two pairs of Stills with reasonably straightforward Lyne arms that produce a Medium-Bodied, Sweet, Malty, Spicy and Fruity Spirit. The Water is sourced from the Burnside Spring.
🌲

The Wood

:
The spirit for this 20 Years most probably matured in First Fill Ex-Bourbon casks. I detect some Sherry influence as well. A few casks? A Finish? I don't have this information available.
Drinking Experience
:
Good. Not very exciting though!
Conclusion

: The BenRiach 20 Years is a very accessible Single Malt, both in terms of Price as well as Aromas and Flavours. Easy-going and mainstream. It should have been bottled at at least 46% of course but that would make it more expensive. A well-made Single Malt at a reasonable price. What more could you possibly want. Well, I for one was waiting during the whole Tasting and Nosing session for something to happen. Something that would make me smile, cringe, cry, anything...But no, nothing happened. I think you get the picture. Nice Malt but without excitement and Wow factor. The Spice Girls without the Spice!