Brand: Highland Park Fire Edition
Type: Single Malt Whisky
Age: 15 Years
Alcohol By Volume (ABV): 45.2%
Maturation: Bourbon casks seasoned with Port Wine.
Chill Filtration: No
Price Range: US$ 250-300 (January 2018).
Buying Advice
: 😡 Negative. Not bad but way too expensive!
Colour

: Golden Amber (Natural Colour)
Nose

: The Port Wine presence is not so obvious when you look at the Colour of this Highland Park but you can't miss it on the Nose where you are welcomed by an abundance of Sweet Dark Red Fruit like Berries, Grapes and Plums. There is an initial Aroma of Musty Cooked Vegetables but it fades away over time. Be sure to give this Malt enough time in the glass. As you know I'm not a huge fan of the Port/Whisky combination in general but on the Nose this HP is okay. The Port does dominate the other Aromas though so I miss a bit of balance. I also find Malted Cereals, Buttered Toast, Brown Sugar, Caramel, Vanilla, Heather-Honey, Herbs, Straw, Orange-Flavoured Dark Chocolate, Charred Oak, Apple-Vinegar, Cinnamon, light Licorice, light Menthol and hints of Varnish, Old Leather and Banana. In the background there's a veil of Smoke and Earthy Peat.
Palate

: The delivery is a bit on the Thin side despite the adequate ABV. On the Palate the Fire appears a bit Rough and Edgy. The Earthy Peat and Smoke are more noticeable now but the Port still reigns supreme. I find Dark Red Fruit like Berries, Grapes and Plums, Malted Cereals, Vanilla, Bitter Orange, Grapefruit, Charred Oak, Espresso, Heather-Honey, Cinnamon, Pepper, Nutmeg, Menthol, Licorice, Ashes and PVC Pipes.
Finish

: Bitter-Sweet and on the short side. Quite Dry towards the end. I detect Malted Cereals, Raspberries, Red Grapes, Red Wine, Earthy Peat, light Smoke, Charred Oak, Vanilla, Toffee, Almonds, Bitter Oranges, Grapefruit, Cinnamon, Pepper, Nutmeg, Ashes, Bitter Chocolate, Espresso, Menthol, light Licorice, PVC Pipes and Cherry-Flavoured Cough Syrup.
Drinking Advice

:
The Highland Park Fire does not improve with added Water.
Nose: 21.5 - Taste: 21 - Finish: 20.5 - Overall: 21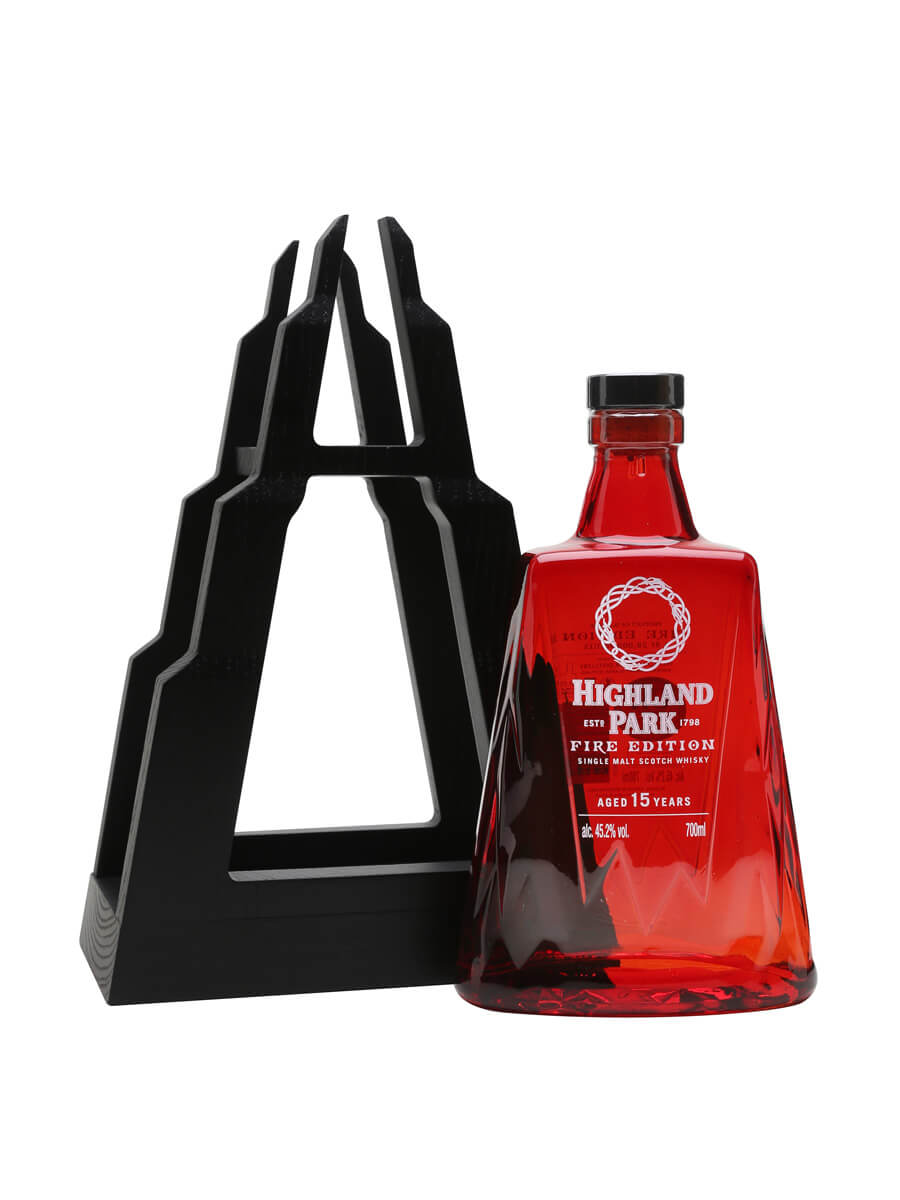 🏣
The Distillery and Today's Whisky:
The distillery was founded in 1798 by David Robertson. It is located in the small town of Kirkwall on the isle of Orkney. Orkney is still quite strongly influenced by its Viking past and the distillery has increasingly used this past as a rather successful marketing tool. Highland Park currently produces around 2 million litres of Alcohol and is owned since 1997 by the Edrington Group. The core range consists of the 10 (Viking Scars), the 12 (Viking Honour), the 18 (Viking Pride), the 25, 30 and 40 years. So far I haven't been able to visit this distillery but it's high on my wish-list!
The Highland Park Fire was launched in November 2016 and is the second in a limited Edition series preceded by Ice that was launched earlier that year. They are inspired by the final battle between Norse Gods like Odin, Freyr, Thor and Loki and the Fire and Ice Giants. In this Twilight of the Gods (Ragnarok), the old world dies in a blazing ball of fire and the new world is raised from the ashes. Only 28.000 bottles of Fire were released world-wide. The red bottle certainly stands out and is packed in a wooden cradle that is designed to match with the cradle of the Ice edition.
The distillery operates two pairs of Stills with Lyne arms that are either straight or showing a slightly upwards angle. They produce a medium-bodied, Peaty and Toffee-Sweet Spirit, some of it being used in Blends like The Famous Grouse and Cutty Sark. The water is sourced from the Crantit Spring.
🌲

The Wood

:
The Spirit for Fire matured in Port Wine seasoned Refill Ex-Bourbons casks.
Drinking Experience
:
Good
Conclusion

: I wasn't expecting too much of this Highland Park Fire as I'm not a huge fan of the Port/Red Wine - Whisky combination. But I must admit it's not a bad effort by Highland Park. My main problems with the Fire are the complete domination by the Port Wine, the lack of balance, the lack luster Finish and the high price. There's no way this Single Malt deserves a price of 250-300 US Dollars. If you like a peated Malt with a Red Wine Finish go for the Longrow 11 Red Cabernet Sauvignon instead. Much better Price/Quality ratio. I think that Highland Park made a good effort by creating this first Red Wine matured Single Malt. I also think though that they are abusing Marketing to justify exorbitant prices for this Fire Edition and that's a pity.
Jan van den Ende January 29, 2018