Brand: Johnnie Walker A Song of Fire (Limited Edition)
Type: Blended Scotch Whisky
Alcohol By Volume (ABV): 40.8%
Maturation: Probably Refill Bourbon Casks with some Sherry Wood & Virgin Oak
Chill Filtration: Yes
Price Range: US$ 32-38 (March 2020)
Price/Quality Ratio: Just Okay. It's a nice bottle for your GoT collection though!
Buying Advice
: 👍 It's a little Thin but the Bottle will convince you. Just once!
Colour

: Light Amber (Artificially Coloured)
Nose

:
Light, Young, a little Musty and Sweet. The Dragon probably just flew over Caol Ila a few times and picked up a bit of the Smoky Air around the distillery. Cause there's only a thin veil of Cold Campfire Smoke around. A little (Dried) Fruit, some Citrus and a few Nuts and Spices and that's about it. The Grain Alcohol is noticeable but it's not too sharp.
Main Aromas

:
Toasted Grains, Caramel, Brown Sugar, Mixed Dried Fruit and Nuts, Dusty Earth and Cold Smoke, Orange and Lemon Peel, Leather, Dried Herbs, Milk Chocolate and Pepper.
Supportive Aroma Accents:
Toffee, Vanilla, Malted and Toasted Barley, Refill Oak, Cooked Apples, Plastic, Perfume, Cinnamon, Cloves, Aniseed and BBQ.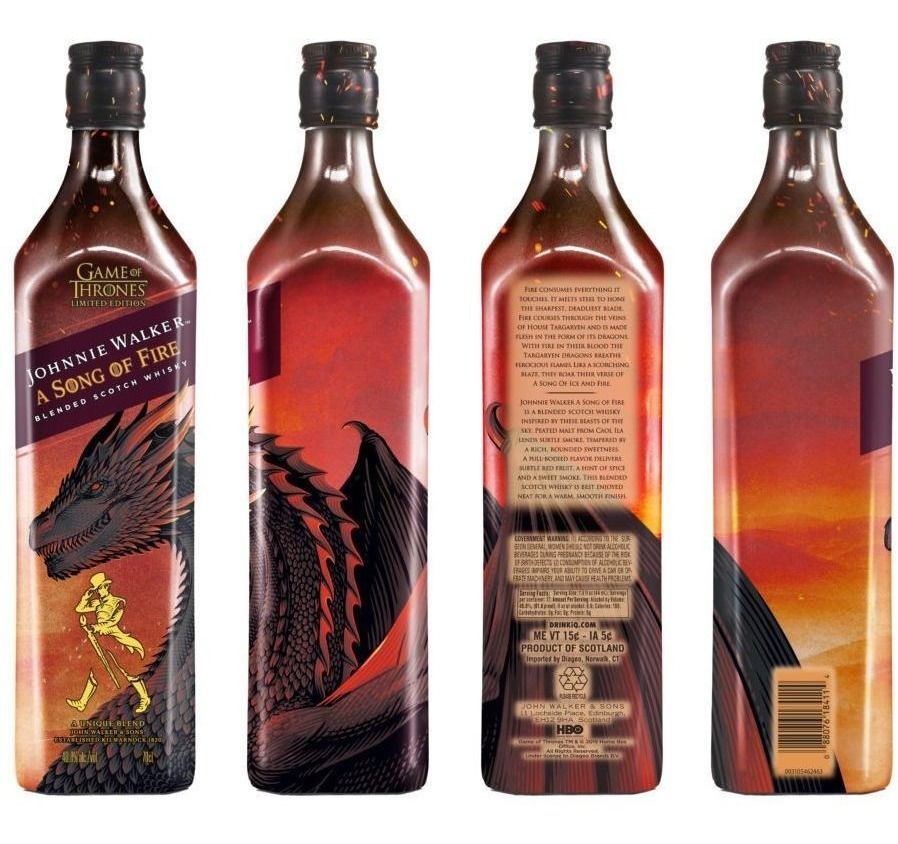 Palate

:
Light, Young, Thin, Bitter-Sweet & a little Hot & Sour. The Grain Alcohol comes to the front and Smoke and Dusty Track are more noticeable as well.
Main Flavours:
Toasted Cereals, Grain Alcohol, Toffee, Caramel, Dried Fruit like Apricot, Salted Nuts, Orange Peel, Cold Smoke, Dusty Road and Pepper.
Supportive Flavour Accents:
Toasted Malt, Vanilla, Wax, Honey, Leather, Milk Chocolate, Ashes, Cinnamon, Nutmeg, Lemon and Artificially Flavoured Strawberry Yogurt.
Finish:
Short/Middle-Long, Bitter-Sweet, Young, Spicy, Thin and a little Hot. The Grain Alcohol rules by now and images of Peppered Vodka appear. I identify Toasted Cereals, Grain Alcohol, Caramel, Toffee, Dried Fruit like Apricots & Salted Nuts, Cold Smoke and Dusty Road, Refill Oak, Leather, Ashes, Dried Herbs, Pepper, Cinnamon, Nutmeg, Citrus and Artificially Flavoured Strawberry Yogurt.
Drinking Advice

:
You can add a few drops of Water but I prefer it Neat or on the Rocks.
Rating

: 77
Nose: 19.5 - Taste: 19.5 - Finish: 19 - Overall: 19
Drinking Experience Neat

: Just Okay
Drinking Experience on the Rocks
: Light but Okay
Conclusion

:
Diageo and HBO work together in celebrating the enormous success of Game of Thrones. As successors to The White Walker Blend released in 2018 two new Blends saw the light last year. A Song of Fire representing the House Targaryen and A Song of Ice representing House Stark that I reviewed earlier this month. A Song of Fire comes in a very nice frosted bottle that shows a Dragon, the House Targaryen's house sigil, in a fiery setting with deep Red Colours. At its heart lies Caol Ila, one of Scotland's Islay distilleries. It is bottled at a weird ABV of 40.8%. Quite unusual!
Like A Song of Ice, his hot sister does not provide Whisky heaven. It's too Thin for that and the Aroma/Flavour profile is pretty basic. But it's less Harsh than JW Red and if you buy it at a Travel Retail Shop like I did you get a very nice bottle for US$ 19. It's much more a Collectors Item than anything else but as a one time buy it will serve you well.
Cheers!
Jan van den Ende March 2, 2020